It's tough to find anyone that likes flies, and depending where you live, it might be a problem all year round, or just a seasonal annoyance.
For some people, it's an irritation that can be ignored, but for others (us included!) it's tough to concentrate – that's where these helpful electronic fly swatters come in handy!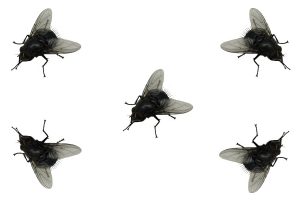 Naturally, some people are loathed to kill living things, so it's easy to see why they're not for everyone. They work by zapping unwanted visitors with a quick burst of electrical charge to instantly kill flies on contact.
All you need to do is swing the swatter tennis racket style to hit the fly, and as they're often quick, you can sometimes need a few attempts to catch it.
Top 5: Electric Fly Swatter Review
There are a lot of different swatters available, so it's easy to succumb to the temptation to buy the cheapest one you can find.
They're not all created equal, so knowing a little about the quality of what you're buying is key.
That doesn't mean you need to buy the most expensive either though, far from it, as you'll learn from our selection below.
As you can see, all swatters do broadly the same job. We've chosen these particular items because they both sell well and also carry good reviews and positive comments (on the whole) from previous customers.
ZAP IT! Mini Bug Zapper Rechargeable
ZAP IT! Mini Bug Zapper – Rechargeable Mosquito, Fly and Bug Killer Racket Review
The ZAP IT! brand have a hugely successful product in this Bug Zapper, and it comes in two primary varieties, standard battery and rechargeable.
The 'rechargeable' option is our preferred choice, simply because it means you won't be scrambling around to find fresh batteries when a fly is driving you crazy in the house. You can see the battery powered alternative further down the page.
It's been bought by thousands and thousands of customers, with the overwhelming majority of those providing feedback being positive in their reviews. As you can see, it's also remarkably affordable:
The Features Table
Pros
Popular product
Low price
Easy to use
Rechargeable via USB cable (supplied)
Human shock protection
Cons
Some people may prefer a larger zapper
The Extra Detail
This compact zapper is very easy to use – just plug it in to charge up with the supplied (micro) USB cable – you can plug it into a laptop or phone charger – whatever suits you.
To use, just switch it on and swing for the fly. You'll get a satisfying buzz on impact and an even more satisfying lack of fly around the room!
While we've not tested it, the manufacturer promises a free replacement if your electric swatter fails. There's plenty of reviews on Amazon where people report a swift replacement being sent out in the case of problems, so we've no reason to doubt it.
The Zap it also has a safety feature to prevent you accidentally zapping yourself – perfect if you've got kids around, or are a little accident prone.
INTELABE Bug Zapper
INTELABE Bug Zapper, Mosquito Killer USB Rechargeable Electric Fly Swatter for Home Review
Intelabe have created this competitively priced zapper that's great for people to deal with flies quickly. Offering a high powered shock delivered on impact, those small, irritating flies won't stand a chance.
All you have to do is switch on the live wires that are on the inner section of the mesh, and you wave it towards flies as if you were playing tennis and the fly or mosquito is the ball. On contact you'll hear a satisfying buzz to confirm you've hit your target.
The Features Table
Pros
4,000 volt strike
Rechargeable battery
USB charger cable
3 mesh layers for better 'catching'
Includes LED flashlightin handle
Cons
Large flies sometimes need several hits
The Extra Detail
As a rechargeable device, this electric fly swatter from Intelabe performs well out of the box, but only after a charge.
Fortunately that's easy – use the supplied USB cable to plug the swatted into a laptop UBS port or use a mobile phone plug block instead. It may come with some charge, but for best results ensure it's topped up before use, otherwise you may find the shock isn't powerful enough.
The mesh that delivers the shock is protected inside an outer frame, making it unlikely that you'll accidentally shock yourself. It should go without saying though, never poke an object into the swatter when it's live.
ZAP IT! Bug Zapper Battery Powered
ZAP IT! Bug Zapper – Battery Powered Mosquito, Fly and Bug Killer Racket Review
This is a very similar model to the top one, with the exception of it being battery powered instead of rechargeable.
Rechargeable models mean the battery is built into the unit, and when it runs flat, you just plug it in, usually with a USB cable running to a laptop or computer, or charging block like those that come with cell phones.
When they use standard batteries like this one, you use standard batteries. This ZAP IT! model uses two AA batteries.
The Features Table
Pros
Popular choice
Well priced
Simple to learn and operate
Human shock protection
Cons
Some people may prefer a larger zapper
Battery powered (non rechargeable)
The Extra Detail
Wile there's not much to add beyond the fact that this is very similar to the top version, that's not necessarily a huge problem. If you're happy to pay the asking price for the rechargeable variation, that's a better choice, but if you're after something cheaper, this is still good. You just need to be aware that the batteries need swapping out when they run down rather than having the convenience of just plugging it in to charge.
Electric Bug Zapper Fly Swatter
Electric Bug Zapper Fly Swatter Zap Mosquito for Indoor and Outdoor Pest Control Review
Back to the rechargeable models we go with this zapper.
This electric swatter includes an LED light in the handle as a handy flashlight function, so it's useful if you're away camping or just out in the yard late into the evening.
It's charged in the same way as the ZAP IT rechargeable above, with a supplied USB cable. Plug it on and the light goes out when it's ready to go. All you have to do is hold the button in to operate us you're swinging away at bugs.
The Features Table
Pros
Rechargeable
USB charging cable supplied
Fun to use
Charge lasts well
LED light in handle
Cons
Could be a little larger
Some flies slip through unscathed
The Extra Detail
This model is very nearly placed higher on the page but for a couple of areas that let it down. Firstly, it's a little small. When you're waving it like crazy at a fly, you're likely to want to get it quickly and this gives a few too many near misses prior to success. Maybe it's a case of practice makes perfect, but we think it's worth a mention. Secondly, the wires that catch the flies are quite widely spaced compared to other brands, so again you might have to put more effort in to introduce the fly to its demise.
Black Flag ZR-7936-L
Black Flag ZR-7936-L Handheld Fly Zapper Review
Last but not least (well, maybe least as it's the last pick!) we've got this black zapper from Black Flag.
It's battery operated rather than rechargeable, and requires two AA batteries to work. as usual with most devices, they're not included in the package so remember to order them if you need to when you buy this.
We chose this one due to a lot of positive reviews, but it's in the bottom spot because there seem to be a lot that fail. Either they're dead on arrival or fail quickly in some cases. That's why it doesn't rank higher – you want a dead fly, not a dead zapper.
The Features Table
Pros
Lots of happy customers
Battery powered
Low price
Claims to be best seller in USA
Cons
Seems a high failure rate
The Extra Detail
The Black Flag zapper claims in its Amazon listing to be the best selling racket zapper in the USA – quite a bold claim. If you look at the positive reviews it's easy to see why – lots of references to ease of use and effectiveness, even being fun to use. It's unfortunate that it seems to be let down by reliability, otherwise we'd be looking deeper and possibly ranking it higher.
Buyers Guide
There are a few useful things to know about swatters before you buy, so let's review a few key points before we finish.
Check For Battery Requirements
As we all know, it's all too easy to buy something and fail to notice the magic phrase 'batteries not included' until you open the box. As the swatters we selected above are all available on Amazon, be sure to check out the battery requirements when you buy, so that you can order those too if you've not already got some.
Electric Fly Swatters FAQ
For any lingering questions relating to electric fly swatters, we've assembled some quick answers below.
What's The Difference Between An Electric Fly Swatter And A Bug Zapper?
Both terms can be used interchangeably, however bug zappers tend to refer to fixed units that often run off the mains. Bug zappers are often fixed to the walls in commercial kitchens and restaurants, whereas swatters generally refer to portable, hand held devices.
How Quickly Do These Work?
Many people worry about how cruel using a fly swatter is, and in particular an electric variety. Very few of us want to kill anything, but the fact of the matter is flies are causing a problem in a place where you're working or relaxing.
If you're worries about the flies suffering, the swatters are very quick, so they won't know much about it.
If you're more concerned about chasing them around, it takes a bit of getting used to, but once you've got the hang of using them, a few swipes should be enough to catch the flies in no time.