Welcome to Top Five Reviewer, your guide to the best products around, organized neatly into categories.
When you have a look around, you'll find all sorts of things that we've taken a detailed look into, whether it's for the home, for the office or even to take on vacation.
Below, you'll see the categories to help you narrow down to find what you're looking for, along with some of our latest additions to the site, Firstly, here's the categories available to you, some of which are bigger and will split down further once you click on them.
Our Categories
Our Reviews
Here's a taster of some of our latest reviews. Feel free to have a browse, or use the menus at the top and categories above this section to hone in on what you're looking for.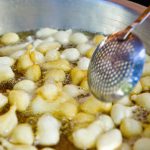 Deep Fryers
Frying has been a feature of home cooking for decades. It offers a fast and convenient way to evenly cook food, and gives delicious results.
Of course, in recent years there's been more focus on healthy eating and deep frying has fallen out of favor a little.
That's not to say it doesn't still have its place though, as home made fries just aren't the same without the fryer.
Read Review