I defy anyone reading this to find a child that's not spent at least a moment or two mesmerized by bubbles. Children love to chase them around the garden, delightfully giggling as they burst as they're grabbed or hit obstacles.
Unlike when I was a child, bubble machines are now a thing, making hundreds at a time rather then blowing them with a wand dipped in liquid like it was for those of us that are supposed to be too old now to love bubbles.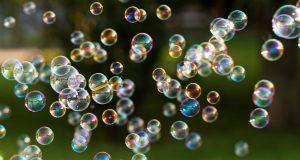 Truth be told, they still bring a smile to my face now as a forty something parent, and that's not just because its so much fun watching the kids play. Of course, seeing the children's excitement is a big part of getting the bubble machine out of the box, but I have to admit, I still find myself watching them drift off into a blue sky too!
Top 5: Bubble Machine Review
Let's have a look at some of the better bubble makers for kids on this page, and what it is that separates them from the rest to make them the best buys.
As you can see, automatic bubble blowers come in all sorts of shapes, sizes and colors, perfect for choosing something that matches your needs. Kids tend to love the novelty designs, so that frog is perfect for young kids.
On the other hand, the plain white colored bubble maker is great if it also doubles up for adult parties or corporate events.
Hicober Bubble Machine
Hicober Automatic Bubble Machine For Kids Review
The cannon shaped Hicober bubble maker is surely going to be a blast with kids big and small. While it's not the most colorful of the choices you'll find on this page, it's certainly getting top marks for convenience.
Customers note that it's give hours and hours of clog free operation, and manages to keep going for up to two hours on the slower setting. Who wants slow though, right? Don't worry, there's a high speed too, meaning you can pump out up to 1700 bubbles per minute.
The Features Table
Pros
Dual speed
200ml capacity reservoir
Suitable indoors and outdoors
Runs On AC power or batteries
Up to 5 meters of bubbles
Cons
Bubble solution not included
6 C batteries not included
The Extra Detail
While you'll need to buy some solution separately, that's our only real gripe with this bubble maker. We've seen a few reports of them arriving broken, but that can happen with any product, and buying from Amazon means it'll get sorted quickly if the unlikely happens.
This bubble machine is great – especially on the higher speed. Naturally, you'll get through a bit more solution by using the faster setting, but if you want a fun time, you might as well do it properly – your kids will repay you in excitement!
This isn't the cheapest you'll find, but it's certainly one of the more reliable and impressive examples of bubble chaos we've seen.
Kidzlane Bubble Machine
Kidzlane Bubble Machine for Toddlers And Kids Outdoors Review
If you're looking for something that's more designed to appeal to kids from its cute factor, this is the one. This Kidzlane bubble maker really looks the part for younger kids and they'll be begging to play with it from morning until bedtime.
The Features Table
Pros
Cute design
Suitable for age 3+
Battery powered – use anywhere
230ml reservoir
500 bubbles per minute
Cons
Prepare to be nagged to get this out all the time
The Extra Detail
The dolphin design of the main unit looks amazing, and spits out bubbles at a rate that will send toddlers into a frenzy trying to catch them all. It's relatively quiet, which you'll appreciate is great to know if you've heard some noisy machines grinding away.
There's 10 individual bubble wands that rotate in the machine to create the bubbles, helping to keep up to 500 a minute taking to the air for the kids to enjoy.
TOLOCO Bubble Machine
TOLOCO Automatic Blower Portable Bubble Maker for Kids Review
Next up – if you want bubbles, you got bubbles. This Toloco maker produces a whopping 3000 bubbles a minute on the highest setting, and can keep that up for nearly half an hour between refills.
The Features Table
Pros
Powered by USB charger or batteries
8 bubble wands
Up to 3000 bubbles per minute
320ml reservoir
Carry handle
Cons
Plain design
4 C batteries not included
The Extra Detail
As this is a heavyweight in bubble production, it's no surprise its a little heavier on batteries that other models. It's great then that this one supports a USB adapter power source, so you can use a power bank like you could use to charge a phone while out and about instead of the 4 C batteries. That's going to save a lot of dollars over the life of the machine, and keep the fun flowing.
This machine might be a little overkill unless your kids love to do things to the max. It's also not got the bright and colorful design of some of the others on this page, so generally the Toloco is going to appeal to those looking for mega bubble volume.
Windrio Bubble Machine
Windrio Automatic Bubble Blower For Kids Review
The Windrio has more than passing similarities to the last one from Toloco. The big difference, though, is the includion of a rechargeable battery, effectively meaning that the power bank requirement is removed, as it's already built in! It's charged via a USB C connector, gving over 3 hours of fun from a four hour charge.
The Features Table
Pros
Rechargeable battery included
USB C charging (4 hour charge)
Up to 3000 bubbles per minute
Over half a liter reservoir
Wide launch angle
Cons
Less colorful than other models
The Extra Detail
If you wanted something even bigger and better than the last option, this is the best we've got. Built in battery, wide 'oscillating' launch angles and a huge tank holding over 500ml of solution, this will produce tons of bubbles quickly, spray them all over the place and keep going for ages (over three hours depending on the speed chosen).
It's probably overkill for younger kids, who'll probably prefer the next item or the earlier dolphin, but for teenagers, you might just tempt out their childish side one last time!
ToyerBee Bubble Machine
ToyerBee Automatic Bubble Maker with Bubble Solution Review
Last but definitely not least is this really neat bubbly lump of fun from ToyerBee. This automatic bubble maker is up there with the cutest we've seen, and one that young kids will love.
The Features Table
Pros
Suitable for 3 years+
Battery powered for use outdoors
Includes bubble solution
800 bubble a minute
Frog design appeals to young children
Cons
4 AA batteries not included
The Extra Detail
One for the younger children – this ToyerBee frog bubble maker is great for capturing the attention and imagination. It's lower power than the last couple, so less likely to intimidate younger bubble fans and get them screaming, yelping and laughing in delight in no time.
This has a nice extra in that it's one of the few machines that includes bubble solution in the box – so you're more likely to be able to get going straight away. Just make sure you've got four AA batteries ready to install and you're good to go!
Buyers Guide
There are a vast number of bubble makers out there, some much better than others. The key point is that they just need to capture the imagination, particularly for young children. Poor quality machines might be a let down, so we deliberately chose mainly imagination provoking models above.
Of course, you might find much better choices to match your kids interest, so let's talk a little about the key features to look for, so you can get the best possible machine for your money.
Buy With Your Child In Mind
Different kids love different things. The most common bubble makers above are chosen because we think they'll be loved by load of children and moms and dads too. You're the person buying though, and you know who you're buying for.
If you've got a child in mind that loves the ocean, fish or shark themed bubble makers might be perfect. On the other hand, a fairy tale princess might be just the ticket for other kids (or big kids).
Bubble Machines FAQ
Now we know what to look for, let's have a look at common questions you might have in mind when in the market for kids bubble machines.
How Do Bubble Machines Work?
Check out the video above to see one in action, but most are very simple to use.
Just pour bubble solution into the reservoir, and switch on. The machine will rotate the bubble wand so it collects solution then moves in front of an air jet – just like manually blown bubbles, they'll quickly propel out from the machine into the air before your eyes!
How Are They Powered?
Some bubble machines plug into the mains, but a lot of the kids models tend to use batteries, as they're often used outdoors in the garden. Some even run on both, and perhaps even work with a USB adaptor.
Those in the last category are great if you've got a power-bank to charge your phone or iPad, as that will save you money on batteries, while avoiding the need to run the bubbles near a power outlet or run a cable.
Is Bubble Solution Included?
In most cases, no. We've indicated in the above listings which ones include bubble solution, so if we've not mentioned it, you should assume not.
It's quite easy to make though, or order some bubble solution at the same time. Here's a good one: