If you were a fan of arcades in your childhood, you'll fondly remember the video games evolving gradually over time, possibly before video games were so common at home. Before the days of the XBox and Playstation, pinball machines had a huge cult following in arcades and diners, and today they are still popular, and you can now buy your own at home.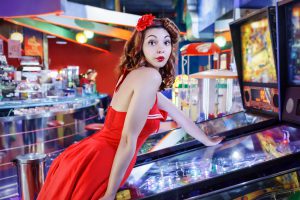 They're certainly not cheap, with most running into several thousand dollars. If you're able to afford the hefty price tag, you'll find that they're every bit as good as you remember too. You can relive the nostalgia of the 1970s and 1980s with themed pinball tables of the golden era, but also opt for some modern movie franchises too. As premium gifts come, whether you're buying for yourself or someone else, this truly makes a sensational gift.
While you can get mini pinball tables that are toys for kids, the ones on this page are very much the real thing – toys for big kids. If you're kitting out your games room with arcade machines or looking for the perfect talking point when your friends visit, a top full sized pinball machine makes the perfect choice.
Top 5: Pinball Machine Review
When you're looking for the best choice of pinball machine, you will probably find it's the theme that makes the difference. Whether you're a science fiction geek or you're looking for something more vintage and authentic, there's a table for you.
Here's a taster of some great choices, along with a link to see the price on Amazon. You'll also find Amazon have loads of premium tables too – so when you get there, if it's not quite right, take a look around as you'll find plenty more in their recommended similar products as there are often new pinball machines coming out.
Of course, at the prices you're looking at to buy a great machine, if you don't know a lot about pinball tables, you'll want to read a little more before committing to such an investment. Next, we'll go into a lot more detail about our top five pinball machine selections.
Stern Pinball Star Trek
The Stern Pinball Star Trek Review
If you're a fan of pinball and a fan of Star Trek, there's going to be very little that will divert your attention away from choosing this as your new pinball table. The machine comes to life with amazing sound and visuals, with six missions across three levels giving eighteen immersive options to play.
With drop targets, bumpers and ramps all themed closely to the Star Trek theme, it's no wonder that this is such a popular table among pinball enthusiasts.
The Features Table
Pros
Three flippers (2 low one mid table on right hand side)
LED play field
18 treks to enjoy
Warp themed ramp
Appeals to pinball newbies and experts alike
Cons
Design feels dated but loyal to Star Trek
Star Trek is a classic pinball theme, and this table perfectly captures the Trekkies obsession of the series. As a result, being a slightly dated franchise, the machine doesn't quite have the look of some other ultra modern pinball machines. That's probably not going to put a true Trekkie off though, who will no doubt love the story and missions which bring many hours of enjoyment.
Stern Pinball Munsters
The Stern Pinball Munsters Review
It goes without saying that the Munsters have a special place in the hearts of fans across the world, but how many can say they've got their very own Munsters themed pinball machine?
Whether your favorite character is Herman, Eddie, Marilyn, Spot, Lilly, The Raven, Spot, Igor, Kitty or Grandpa, the immersive visuals and sounds from this pinball table will hit the mark.
Featuring everything you'd want as a pinball fan including a staircase and the obligatory ramp, this incredibly detailed machine will appeal to pinball wizards and Munster geeks alike.
The Features Table
Pros
Easy to set up
Hidden ball run behind play field
Classic characters depicted
Upper (main) & lower (laboratory) play field on premium edition
Immersive sound to match video display
Cons
Occasional adjustments required to stay level
Stern Pinball Guardians of the Galaxy
The Stern Pinball Guardians of the Galaxy Review
We're sure you're getting the idea now that these machines are shamelessly themed to huge franchises with even bigger followings. In this case, it's Guardians of the Galaxy that provides the imagery, visuals and audio to the pinball machine.
This Marvel themed table features all your favorite characters, including Star Lord, Drax, Gamora, Groot and Rocket to take on Ronan's attempt to reign supreme. Of course, it's down to the player (you!) to defend the galaxy from destruction.
The Features Table
Pros
Art by Christopher Fanchi
2 flippers
4 LED lit ramp domes
Groot Multi-ball feature (up to 6 balls in play)
Line out audio available in addition to speaker
Cons
Expensive premium pinball machine
Stern Pinball Star Wars
The Stern Pinball Star Wars Review
As franchises go, there's little better known than Star Wars. Since the first film inspired millions of people back in 1977 to the present final installments under the stewardship of Disney, Star Wars' popularity has spanned several generations.
Available in two versions, the Pro edition is a great, fun and colorful addition to any home arcade, while the premium edition is even more impressive.
Like the Guardians of the Galaxy machine above, this machine also includes the multi-ball feature, meaning you can have periods of play with up to six balls flying around the playing surface at the same time.
The Features Table
Pros
Universal appeal of Star Wars theme
Interactive play field
2 flippers
9 multi-ball modes
Super speed loop for incredible pace
Cons
Be sure to buy the correct model (Pro/Premium)
Stern Pinball The Beatles Gold Edition
The Stern Pinball The Beatles Gold Edition Review
We're all fond of the Fab Four aren't we? John, Paul, George and Ringo brought us some of the most iconic music from the 1960s which has stood the test of time and you'll regularly hear today. This pinball machine brings a new lease of life to Beatlemania, featuring some of their most loved tunes, and all the essential pinball table features carefully themed to the band.
This gold edition pinball machine might be a big investment, but will provide hours and hours of fun for a Beatles super-fan looking for a centerpiece of their home arcade.
As you can see from the picture, this is a really colorful and exciting arcade machine that will get the attention of friends, family and other visitors, giving you the perfect talking point. You might not be quite as famous as the Fab Four themselves, but this Beatles Gold Edition pinball machine might just make you a legend among friends!
The Features Table
Pros
Fab Four themed
Nine iconic songs featured
Four flippers & eleven drop targets
Spinning Ticket To Ride magnetic record feature
Skillshots & more
Buyers Guide
Buying a pinball machine is a dream for many of us since childhood, and for those of us that still love the idea it's a great, fun game to get immersed in. It is, however a huge investment to buy a full sized table, usually running into thousands of dollars and in some cases, five figures.
You also need to be aware that they need assembly before use, so have a look at the video that follows to understand more. The good news is that putting a pinball machine together is relatively straightforward, but you'll need an extra pair of hands from a friend if possible, and plenty of room for maneuver.
Pinball Machines FAQ
Do These Come Assembled?
You'll need to assemble your pinball machine after delivery, unless you've made other arrangements. As you can see in the video just above this section, assembly is straightforward although having someone to help you is advisable.
Are These Full Size Arcade Pinball Machines?
They sure are! Although there's no single official measurement to make a pinball table 'full size', these are the very same sized machines you'd expect to find in an arcade, or back in a 1980s diner for that matter!