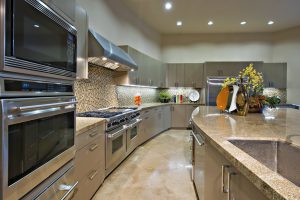 Our kitchens are increasing filled with gadgets, from 'nice to haves' like electric tin openers, to the essentials like ovens and microwaves. Some are huge, like refrigerators, others are tiny and hardly noticed like wine bottle stoppers.
Whatever you're looking for, we're interested too. Our kitchen products section is filled with all sorts of items, some that every home depends on, others that would make the perfect gift for that friend or relative that's got everything.
Here's what you can find in the kitchen product reviews:
Deep Fryers - Frying has been a feature of home cooking for decades. It offers a fast and convenient way to evenly cook food, and gives delicious results. Of course, in recent years there's been more focus on healthy eating and deep frying has fallen out of favor a little. That's not to say it doesn't still have its place though, as home made fries just aren't the same without the fryer.
Tea Cozies - There are a surprising number of Americans who have never heard of a tea cozy, and an even bigger number that have heard of them but have no idea of their purpose. They might well resemble a hat to wear out in sub zero temperatures, but they're actually intended for temperatures at the other end of the spectrum.
If you're looking for another category, there's more at the top of the page.