Frying has been a feature of home cooking for decades. It offers a fast and convenient way to evenly cook food, and gives delicious results. Of course, in recent years there's been more focus on healthy eating and deep frying has fallen out of favor a little.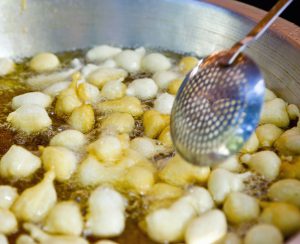 That's not to say it doesn't still have its place though, as home made fries just aren't the same without the fryer.
While we fully support the national effort to get healthier, that's something we need to achieve sensibly. Just like you can't walk or jog everywhere and need to use the car for longer distances, there will always be a need for fryers in the kitchen.
New advances in technology mean that there are healthier air fryer alternatives available, but they're not as versatile and don't seem to get quite the same results.
Top 5: Deep Fryer Review
There are a huge number of fryer models available, with each unit able to offer similar but slightly varying features. It can be difficult to know which is best, especially when everyone will have slightly different uses in mind.
Let's take a look at some of the most popular models, based on their features as all rounders and what previous buyers have said about them.
It's all very wel that we've picked out some of our favorites, but you're probably wondering why we've picked them too – unless you're in a rush and just want to take our word for it of course.
Let's take a look in a bit more detail then about whats good and not so good about each of them.
Presto 05420 FryDaddy
Black Presto 05420 FryDaddy Electric Deep Fryer Review
To start, we've chosen a very low price model that's perfect for the small kitchen. If you're cooking for one or two, this is an ideal size for a few fries, while being big enough for those treats like onion rings, shrimp and of course, the favorite fried chicken too.
As it's small, you need less oil too – a great cost saving. The FryDaddy is also able to store the oil between uses too, so you won't need to keep emptying it out after each use – a job that only needs doing when the oil needs replacing.
The Features Table
The Extra Detail
The lid fixes in place between uses, so the oil won't leak away leaving a mess. There's also a scoop in the box designed specifically for use with the Presto 05420 FryDaddy deep fryer – if you've ever tried to use a small fryer with a scoop that's to big, you'll know its a thankless task, and potentially even dangerous with very hot fat around.
A nice added touch is the two year warranty that comes with the FryDaddy, even though we all hope never to need to use them, it's a good boost to confidence in a product knowing that the manufacturer is happy to stand by their creations for an extended period.
T-Fal FR8000 Easy Clean
T-fal Stainless Steel Easy Clean Deep Fryer with Basket Review
T-Fal (Tefal outside the US) make a lot of cookware items, and are a popular brand for kitchen purchases. This stainless steel fryer is highly rated by those that own it, as it solves one of the big gripes with fryers – cleaning.
Unlike many alternatives, the T-Fal FR8000 has several dishwasher safe parts, making it much easier to look after than other models.
This is undoubtedly one of the more expensive fryers we've seen, but it does offer far more convenience thanks to the EZ clean features. If you're able to afford this one, and hate spending time cleaning up slippery oily residue, definitely give this some consideration.
The Features Table
The Extra Detail
Let's talk about the dishwasher safe elements a little next – as this is an electronic device, not all parts can be placed into the dishwasher. Those that can are the lid of the unit, the food basket and the oil vat that holds the oil when cooking.
The clever part of this model is that the heating element is on an arm that folds into the oil vat, meaning that it can be removed as you dismantle the unit after use. To make things even simpler, once the oil cools, it's filtered into a container in the base of the unit, ready to use next time.
In terms of capacity, this T-Fal deep fryer is generous. It's able to hold three and a half liters of oil, meaning that you can easily make enough for the family in one go.
It's got a really simple thermostat dial to set the temperature, which includes both degrees Celsius and Fahrenheit. That's perfect for those odd times when you find yourself looking at cooking instructions with the unfamiliar Celsius scale.
The only thing that counts against this T-Fal unit is the price, if you're happy to pay more this is the one to get. You'll save money over time on being able to re-use oil for longer (the amount of time will be determined by what you're cooking), but the initial outlay is greater than less impressive models.
Hamilton Beach Triple Basket
Hamilton Beach 35034 Triple Basket 1800W Electric Deep Fryer Review
This Hamilton Beach fryer comes in three varieties, and that boils down to one, two or three baskets, here we're looking at the triple basket version, which essentially combines the single and dual basket version into one. The single basket edition is one large basket that dips into the oil, whereas the dual has two – each of half the size of the larger one. By purchasing the triple basket, you get the best of both worlds, as the two configurations are interchangable on the fryer.
The Features Table
The Extra Detail
If you want an even higher capacity fryer than the T-Fal option, this one from Hamilton Beach is around a third bigger.
Boasting a massive 19 cup oil, 12 cup food capacity, this four and a half liter fryer is about as chunky as they come before you get into commercial territory. If you've got a large family, give this a closer inspection.
On the other hand, price wise it's higher than the T-Fal, so if you don't need more basket room then it's probably not worth the extra dollars. You're also losing T-Fal's excellent oil filtration function, so the oil in this Hamilton Beach deep fryer will almost certainly need to be replaced more often (and you need more to fill it too).
The other separator is the option for two smaller baskets to be used at once, so if you like to keep your foods separate in the fryer, that's the other reason to step up to this model.
Aigostar 1650W
Aigostar 3 Liter Electric Deep Fat Fryer with Baskets Review
Let's pull back a bit from the expensive fryers and give you a couple of more affordable options. This Aigostar runs at 1650W and uses three liters of oil to give around 8 cups (2 liters) of basket space.
While it carries a much lighter price tag than the T-Fal and Hamilton Beach fryers, the Aigostar deep fryer still manages to look great with its stainless steel look paneling with black trim.
The Features Table
The Extra Detail
The only real negative to this product is that it doesn't feel as sturdy as the more expensive alternatives above. That's not a huge surprise given the significant differences in price, but is worth mentioning.
The fryer is easy to use with a large dial to set the temperature and easy to read temperature gauge. Another neat design feature is the markings to show you typical temperatures for fries, fish, shrimp and chicken. As you would expect from a deep fryer, all of those mean cooking through takes no more than about five minutes once the green light tells you the oil is up to temperature.
For the price, this is a great buy and will appeal to people that can't stretch to the T-Fal.
Secura L-DF401B-T
Secura 1700W Stainless-Steel 4 Liter Triple Basket Electric Deep Fryer With Timer Review
Finally, we've got this triple basket option from Secura. We're including this as it offers the same configuration option of one or two baskets as the Hamilton Beach, but for a fraction of the price.
It's a little smaller than the Hamilton Beach fryer, at 4 liters falls half a liter short, but really does offer a lot for a cheaper price. If you like the Hamilton Beach but can't afford it, this is a good second choice for similar features.
The Features Table
The Extra Detail
There's a could of negatives to address with this unit – firstly, there are a significant number of reviews on the web suggesting that the fryers fail soon after being purchased. There's also a lot more positive write ups too, so clearly isn't an issue with all of these deep fryers. Of course, if you buy from Amazon they're great at sorting out faulty products, but do be aware that there may be reliability issues if you're unlucky with the one you get.
The second negative point relates to the oil temperature. While we haven't seen any variations in the other fryers, this one didn't create uniform temperatures to match the temperate setting dial consistently. It's not far out, but when you're cooking you want to be sure how hot the oil is to be sure that the foods get properly cooked through.
For that reason it's wise to allow an extra minute for food safety, but be careful to avoid overcooking too. This sounds like a big problem, but it's not something that's a long way out – just enough to warrant a mention. We'd recommend the Hamilton Beach fryer if you can afford it and want to be able to use both baskets at once, but if there's less money to spend, here's another choice for you.
Buyers Guide
With so many fryers to choose from, how do you know which is for you?
Our buyers guide is designed to help you to answer that question by examining some of the things you should be thinking about when selecting your purchase.
What Can You Cook?
You can in theory cook almost anything in a fryer, but some foods work (a lot!) better than others. The most popular home fried foods are:
Fries
Chicken
Shrimp
Fish
Donuts
Mushrooms
Onion rings
Churros
Mozzarella Sticks
What Temperature Do You Fry At?
Knowing what you can cook is one thing, but knowing how to cook it is another entirely, so let's look at those again along with the temperature you should be cooking them at.
Food
Temp (F)
Fries
325 to cook
375 to crisp
Chicken
350
Shrimp
375
Fish
375
Donuts
375
Mushrooms
375
Onion Rings
350
Churros
375
Mozzarella Sticks
375
Of course, always follow the food packaging if it says differently, our table is just a rough guide.
How Long Do You Fry For?
So, now we know what we can cook in the fryer and how hot the oil needs to be. The final piece of the puzzle is cooking time, so let's update the table with that.
Food
Temp (F)
Time
Fries
325 to cook
375 to crisp
3 mins
4 mins
Chicken
350
20 mins
(Breast)
8 mins
(Wings)
Shrimp
375
2 mins
Fish
375

5 mins
(small)
8 minutes
(large)

Donuts
375
3 mins
(until golden)
Mushrooms
375
5 mins
Onion Rings
350
5 mins
Churros
375
4 mins
Mozzarella Sticks
375
2 mins
Again – this is just a guide, always follow cooking instructions carefully.
Deep Fryers FAQ
While fryers have been around for many, many years, they have evolved over time. While most features are obvious, some are less so and leave questions unanswered. We're going to try to solve that problem next, by checking out some of the frequently asked questions relating to frying.
What's The Best Fryer For Home Use?
All of the fryers above have been chosen for home use, but at the same time, it's not a one size fit's all choice – literally! A bigger household will typically want to buy a bigger fryer than a smaller home, so you need to consider your requirements. That's why we've highlighted the capacity of the models in the reviews above. In addition, different people have different budgets, and prices change over time too, so be sure to check out the current prices using the blue buttons. In general, you do get more from the higher priced models, but it doesn't hold in every case. We'd highly recommend that you check prices as your read, as sometimes a deal will mean you can get a better fryer on offer for less than an inferior one at normal price (RRP).
Are Deep Fryers Worth It?
Whether or not you choose to buy a deep fryer will probably depend on how often you're likely to use it, and how much you're comfortable spending. If you like to enjoy a lot of crisp fries at home, then you're far more likely to use it regularly than people who are extremely health conscious and avoid fried food. The chances are, though, those people won't be here reading about fryers.
If you're the sort of person that likes to have the best in your kitchen, then you'll almost certainly be happy to spend a bit more, so this answer will likely apply to those on a budget. In general, narrow down your selection to make sure that the fryers are big enough  for your needs, then compare the pricing. If you still have something you like within your budget, then that's more likely to be a good choice. Don't be tempted to buy something that doesn't fulfill its purpose, just because its cheap. Similarly, don't sacrifice features you need (note need, not just want), as you'll generally find it's better to save up a little longer to get what you need instead.
If you frequently consume fried food at home and intend to continue to do so, then a deep fryer is a great purchase.
What Is A Good Size?
Capacity comes down to two things, the number of people you're feeding and what type of item you're cooking. By far the most popular use for home fryers are for fries, but there's a lot more you can make in them too, such as dough balls and fried chicken. Obviously, chicken pieces are quite large, so cooking a large number will require a larger fryer. Generally, make the number of people your primary consideration, but for smaller fryers, be sure you think about going a little larger if you're frequently adding a lot of larger items at once.