When people think about exercise, it's often jogging, cycling or other aerobic activities that spring to mind. While we all know strength is important, it's less common that people name things like weight lifting and push ups in a list of exercise options. Yoga is a great way to achieve body strength, and many people find it far easier to get started with than more strenuous body building activities.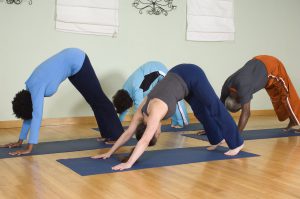 There's very little you need to get started with yoga, but a good, non-slip mat can make things a lot easier, and in some cases, safer!
Yoga mats serve a few simple purposes, the most obvious being that you get good traction as you practice your moves. They're also good for absorbing sweat that can otherwise reduce your grip, and finally they're brilliant to help you gain more awareness of the space around you.
Top 5: Non Slip Yoga Mat Review
Let's have a quick look at some of the top picks available for home yoga.
While those are the stand out options we have selected, let's take a deeper look into each of them in turn.
Toplus
Toplus Classic 1/4 inch Pro Yoga Mat With Carrying Strap Review
For our first pick, we wanted to showcase a mat that both sells well and carries overwhelmingly positive reviews. As a result it's not the cheapest, but it's easy to see why.
This popular and highly rated mat from Toplus provides an impressive level of traction between you and the mat as well as the mat and the floor.
It's also available in a range of colors, so will likely also tick boxes for those who tend to place aesthetics high in their criteria when buying, it's therefore easy to see why this particular mat sells so well.
The Features Table
Pros
Non Slip
Tear resistant
Great for yoga, pilates and other floor exercises
Measures 72 inches long, 26 inches wide and 1/4 inch thickness
Lightweight 2lbs and easy to transport with carry strap
Cons
Thicker mats are available if you don't mind extra weight to carry around
The Extra Detail
The Toplus Classic mat gets its popularity by getting a brilliant trade off between thickness and weight. Of course, the thicker the mat the more padding it provides, but the heavier it will be to move.
If you're leaving the mat in one place, then another weightier option may be preferable, but for most of us it will need to be put away after use.
The Toplus mat is available in several colors, including purple, green, blue and black, and also has a couple of thinner variants on offer if you're looking for something even lighter to carry.
The excellent grip is provided by clever contouring, with a wavy texture on the bottom to ensure you're in solid contact with most types of flooring, and the anti slip top surface being comfortable and effective during your yoga session.
Many happy customers note how this mat manages to achieve both good grip yet easy movement, unlike some lesser alternatives that mean either a loss of grip or dragging the mat as your feet, hands or other body parts move across it.
You can see more on this mat here, or check out the current Amazon price:
Sunny Health & Fitness
Sunny Health & Fitness Non-Slip High Density Anti-Tear Yoga Mat Review
Our second pick comes from the well known brand Sunny Health & Fitness.
Their non slip yoga mat represents amazing value if money is tight and you're looking for a low cost option. As you might expect, it's not the best possible buy in terms of performance, but for those wanting to undertake their yoga on a budget, this might offer a reasonable compromise.
While some might think it's a little too plain for their liking, for others the price will appeal.
The Features Table
Pros
Good tear resistance
Foam PVC material
Textured for better grip
Measures 68 inches long and 24 inches wide
Easy roll and lightweight
Cons
Thin at under 1/4 inch (4mm) thickness
Less strong grip than the Toplus mat above
The Extra Detail
While this is a much thinner mat and offers less grip than the first option above, the Sunny Health & Fitness Non-Slip Yoga Mat does offer very good value. It's significantly lower cost than the higher specification mat above which might sway a good number of our readers. We'd recommend spending more on a good quality mat if you're able to do so, but this is clearly going to be better than no mat at all.
Learn more about this mat here, or find the current price on Amazon:
Durable Portable Solid
Durable Portable Non-Slip Extra Thick Exercise, Fitness, Yoga & Pilates Mat Review
This mat includes a bag that will make carrying it around really easy. If you do yoga at the gym rather than at home, give this one your consideration.
While the Toplus should appeal to home yoga enthusiasts and the second Sunny option appeals to those on a budget, here's one for those who tend to move around.
For the price, you get a lot with this mat, making it a really compelling trade off between the weight to carry around and thickness for comfort, especially at a price that's lower than many other mats.
The Features Table
Pros
Great design, complete with markings to assist orientation of yoga poses
Well priced
Lightweight and easy to carry with provided mesh bag
Measures 72 inches long by 24 inches wide and over half an inch thick
Available in a range of colors and sizes
Cons
Smaller sizes are quite small for yoga use
The Extra Detail
While the main mat in this range is great, be careful not to inadvertently choose a variant to buy that's too small if you're tall or of a larger size. There are a good range of colors and sizes, so if you're not choosing the default option, double check the size before completing your purchase.
This durable mat offers great value, and is very popular, making it a good all rounder choice, particularly if you're going to be traveling around with it, perhaps to yoga classes.
The full size mat in particular is hard to beat in terms of value – while at the same time offering you good comfort and grip during yoga sessions.
Gaiam Premium
Gaiam Premium Yoga Mat For Non Slip Exercise & Fitness Review
This mat from Gaiam is notably different from the previous choices thanks to its bright patterned design.
It can be difficult to find yoga mats that carry attractive designs like these without sacrificing grip, but this one achieves the balance well.
As a side note, there's a nice additional bonus that comes with this mat in the form of a downloadable workout session to get you started with your new mat.
While this featured Alterra design looks great, there's plenty more available in varying bright and cheerful colors and patterns on this mat sold by Amazon, just check them out along with the pricing here:
The Features Table
Pros
Range of designs & colors
Measures 68 inches long by 24 inches wide
Good 1/4 inch thickness for comfort
Non slip texturing
Cons
Can take a few days for the initial smell to wear off
The Extra Detail
These Gaiam mats are popular with yoga fans across America, and a quick look at Amazon will reinforce that fact. A the time of writing, there are over 4,100 individual customer ratings, with the overwhelming majority being highly positive.
The real stand out feature of these yoga mats are their designs, offering an interesting departure from the solid colors that other brands tend to manufacture. While other brands do make brightly colored designs and patterns, they all too often sacrifice grip and quality. That's the reason we've chosen Gaiam mats for our selection, to offer some bright and colorful alternatives that also fulfill our intention to highlight high quality, non slip mats.
PowerLife 6mm Thick
PowerLife 6mm Thick Non Slip Yoga Mat Exercise Mat For Home Gym, Pilates & Fitness Workout Review
Last but not least, we've go this plain mat from PowerLife.
It's a brilliant option for those that are on a budget but can spend a bit more than those limited to options like the Sunny mat above.
This PowerLife yoga mat offers a more comfortable budget opportunity, without sacrificing grip.
If you're looking for a low cost, plain yoga or pilates mat, but value quality and performance, this could well be a good choice for your needs.
Here's the link you need to check Amazon's current price:
The Features Table
Pros
Good grip
Available in solid five colors
Measures 7s inches long by 25 inches wide
Thin but reasonable comfort
Cons
A little thin compared to other mats
Plain block color design
The Extra Detail
This final choice completes our selection of non slip yoga mats with a low cost and decent performance solution for yoga. It's a good all rounder, but as you might expect, probably won't feel like a product that excels in any one area.
It's non slip as you will require, but a little thinner than some other mats, measuring in at a little over a fifth of an inch thick. It's also reasonably strong, giving it a good chance of standing up to the stresses and strains of yoga classes and being rolled and unrolled repeatedly to be transported with you.
Buyers Guide
While we've given you a run down of popular products above, it's understandable that you might want to learn a little more before you take the plunge in buying your new mat. You'll (hopefully!) be using it regularly as part of an ongoing fitness routine, so let's consider a few areas that might help.
Why Non Slip Is Important
We've focused on non slip mats on this page for a reason – it makes the activity of yoga much easier and safer too. Many poses that you'll be performing require a good grip with the ground, as feet and hands sliding away mid pose will generally mean you run the risk of collapsing to the floor.
You might notice that there are a ton of cheap yoga mats out there on the market, but many simply won't give you the grip you need to be able to forget about the mat and focus on the yoga stretches.
Non Slip Yoga Mats FAQ
Just like in the Buyers Guide above, you might have questions relating to your purchase. In this section we're going to consider some frequently asked questions (FAQs) relating to yoga mats, and hopefully give you more clarity about what to buy.
Does More Expensive Mean Better?
In general, when you spend more on anything you expect better quality, but it's rarely as simple as that. In general, very cheap products can mean you're getting a very high chance of poor quality, whether in terms of not being fit for purpose, or being unlikely to last long. On the other hand, spending a fortune on the most expensive yoga mat you can find probably isn't wise either.
We've selected the above mats based on popularity, reviews and features. In other words, we dug our mats that sell well, get generally positive feedback from customers and fit the needs of people looking for a non slip may for home use.
In general, price is a side effect of those factors, not least the popularity aspect. In general, big selling items represent good value, so when you buy something that's very popular with other customers and has good or great reviews, you're on to a winner. You can verify all of these criteria on Amazon using the buttons provided above.
Does Color Matter?
If you choose a variation in color of the same product, you can be reasonably confident that's all that's changing. It's possible that there's a very low variation in performance of the product, in this case though, any change in grip is highly unlikely to be something that you'll notice.
If you spot the mat you want in a color you love, go for it!