Tennis is one of the most popular sports in the world, and is quite unusual in that it is fairly universal in its popularity in virtually every country. The Grand Slam events attract the most attention, and global sales of related equipment soar after each tournament.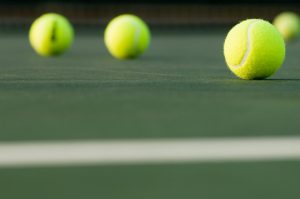 Of course, rackets are the more expensive purchase to get started, but you'll probably need a few sets of balls too – not least because while you're new to the game you'll probably lose a few! On this page we're going to look at balls in different colors.
Top 5: Colored Tennis Balls Reviews
There's always been a debate about whether tennis balls are yellow or green, but you may not realize that they're available in lots of different colors, way beyond what the professionals in the ATP and WTA are allowed for play in tournaments.
Tournaments have strict rules about the specifications of the balls they use in competitions, but that doesn't mean you don't get the choice. Below, you'll find some less common color options, along with some two tone alternatives too.
Choosing a ball with different colored sections is great for beginners to learn how spin on the ball works, so are very common in kids coaching sessions. A lot of people also buy balls for their pets to play with too – so look out for what's great and not so great, especially for dogs who can quickly destroy poor quality balls.
Here are our favorite choices to buy.
That's a great start with some choices of balls, and a couple of unusual choices too in case you're looking for something a bit different. Let's take a closer look at each to see what you get.
Wilson US Open Starter
Wilson US Open Starter Balls Review
Wilson are a hugely well recognized  name in the world of tennis, famed for balls and rackets alike.
Founded in 1913, Wilson's reputation precedes them for high quality products that you can rely on in the long term.
Of course, balls will be replaced from time to time, but buying from a well known brand means they'll stand the test of time as well as can be expected.
This packaging of these three balls comes branded to the US Open, however don't be confused into thinking they're the same ones that Nadal and friends smash around the courts on match day. All of these different colored versions are designed for use outside of professional circles, and in this case, perfect for learners new to tennis.
Features Table
Pros
Slower balls – great for kids
Designed for stage 2 training
Approved by US Tennis Association (USTA)
Low compression
Ideal for age 9 to 10
Cons
Can feel a bit flat to experienced players
The Extra Detail
The two paneled design is great to help you see how spin affects play, with a very clear visual of the way the ball is moving through the air to compared with how it bounces. If you're trying to get the hang of slice vs topspin when you play or receive the ball, this will really help with understanding.
As the balls in this pack of three are designed to be practice balls, they're a lot slower than seasoned players will be used to, bouncing off surfaces around half the speed of pro equivalents. That means kids will be able to learn to move around the court getting less frustrated that they'd otherwise be seeing balls fly away from them faster than they can get to them.
Penn QST 36 Youth Felt
Penn QST 36 Youth Felt for Beginners Review
Hot on the heels of the Wilson balls, these Penn balls are broadly equivalent. Depending where you live in America or around the world, you may feel more affinity to one brand or the other, but there's little to separate these two sets.
Like the Wilson's they have two colored panels, the Penns being red rather than orange.
Be aware that the pack contains 12 balls, as some customers have mistakenly bought assuming it's a 36 ball pack. Actually, the 36 refers to court size, as these balls are aimed at children aged 10 years and under on a 36 foot court.
These balls are also slower then the Wilsons, with the bounce control reducing speed by 75% on contact according to the manufacturer. Again, this is great for learning, but once you've got beyond the basics may be a little too slow.
Features Table
Pros
Big selling ball
Good for training/beginners
Contrasting colors to help visualize spin
USTA approved for age ten and under
Good lifespan
Cons
Bounce too slow for full speed games – designed for learners
Penn Pink Championship Extra Duty
Penn Pink Championship Extra Duty Can Review
Penn Pink Championship balls are a step towards 'proper' tennis balls compared to the first two options, much more suited to adult and experienced tennis players. They're primarily intended to be used on hard courts, however also perform well on the other surfaces too, whether indoors or out.
Penn proudly advertise on their products that they're the official ball of the USTA (United States Tennis Association) leagues, which should give you extra confidence in your purchase. If you're looking for a different color to the usual yellow/green balls, this is a great way to achieve that while sticking with the experience of the experts. One of the big issues with buying colored tennis balls is the number of novelty products on the market, so this is a great choice for quality.
Finally, it's worth mentioning that buying the Penn Pink balls will mean a small donation to breast cancer research. While it's not much, charities will always tell you that every little helps in their mission.
Features Table
Pros
Donation from each purchase to breast cancer research
Best for hard court, good for clay and grass
Penn supply USTA leagues
Available in 3 ball and 72 ball pack
Bright pink color great for low light
Gamma Bag of Pressureless Balls
Gamma Bag Review
Net up is a different type of ball as it's a pressure-less option from Gamma. Like the other training balls we've looked at, these are much slower on bounce than the kind of tennis balls most of us are used to, but the huge advantage with these is they won't deteriorate over time as there's no gas to lose.
The Gamma balls are available in a pack of 12 or 18, and in the colors blue, orange, pink or yellow. Unlike the tube packs above, the Gamma balls are supplied in a handy reusable bag that's great for transporting them and collecting them into after play.
One unusual side effect of the make up of these balls is that the nature of their construction means a lot of people report that they've been destroyed quickly by pets playing with them. The fact that they're easy to tear up into small part probably means they're not a good gift for your dog!
Features Table
Pros
Pressure-less balls can't go flat
Popular with tennis coaches
Longer life than some gas filled balls
Suitable for all court surfaces
Includes carry bag
Rhode Island Novelty 8 Inch Jumbo
Rhode Island Novelty 8 Inch Jumbo Review
The set of four brightly colored Rhode Island novelty jumbo tennis balls is our final pick, to give you another type of selection.
If you've got young children or pets that love to play ball, these could well provide a great extra element of fun. While bigger kids soon learn to catch small balls, these jumbo versions are great with toddlers and other small children, and the bright colors really capture their attention.
They'll come flat, so be aware you'll need to inflate them on arrival, so allow a few minutes ahead of play time for that.
If you're buying for pets, their size should give them a little extra perfection if your furry friends can get a bit boisterous, as they're hard to get their mouth around once fully inflated.
All in al, while these may be described as a novelty item, they do offer some really fun opportunities that are a bit different to traditional balls.
Features Table
Pros
Great for young kids & dogs
Bright oversized tennis balls
4 per pack
Hard for dogs to damage
Arrive deflated for easy delivery
Buyers Guide
There's not a huge amount to learn about balls to head out onto the courts, even if they are different colors to normal, but here's a little more information to help you.
Colored Tennis Ball FAQ
Which Are The Best Balls?
Different players prefer different balls, and it will also very by the type of court used. Professionals have to use tournament balls when they play, so personal preference doesn't come into it!
Babolat supply the balls for the French Open, with Dunlop taking the responsibility for the Australian. Wilson take charge of ball supply for the US open, and the globally recognized pinnacle of the season's calendar is the grass courts of Wimbledon, where you'll see Slazenger balls in play.
When tournaments change their supplier it can be big news, so they try to maintain consistency year after year. As you can see from the selection above, though, training courts have different types of balls available for newbies to the game to develop their skills.
Why Do Balls Come In Different Colors?
There are a number of reasons why you might want to buy colored tennis balls. There's no one simple answer so let's look at a few of the common ones:
Personal Preference
One of the most common (but less important in terms of skill) reasons you might choose a non 'standard' color of ball is that you just like the color. While some balls are colored according to the style of bounce or surface they're designed to play on, many are simply colored to appeal to people's favorite colors. There's nothing particularly scientific about it – just down to marketing!
Visualization Of The Spin Of The Ball
When you're learning the key skills as a tennis beginner, one of the toughest techniques to get the hang of is the spin of the ball. There's two sides to this – playing the ball and receiving the ball. When you play the ball, you'll generally use slice to slow the ball down and top spin to speed up the motion of the ball.
Particularly as the ball bounces, these two types of spin can help you make it harder for your opponent to bother reach the ball before it bounces a second time, and also judge how to hit it back. When receiving a spinning ball, you'll need to have an idea of how it's moving in order to play a competitive shot back in response.
The more contrast there is between the main color of the ball and its seam, the easier it'll be to see as the ball travels towards you.
What Are Balls Made Out Of?
The felt you see on the outside of a ball is literally just the surface – there's more going on inside.
Generally speaking, the structure of the ball is rubber, sealing in the gas which is said to pressurize the tennis ball. It's when the gas escapes that it's said to go flat and lose the ability to bounce properly.
You can often tell a ball is going flat from the sound of the bounce changing as well as the resulting height.
How Heavy Is A Tennis Ball?
Tournament balls have very specific requirements to meet. They're required to be 65mm wide, within a margin of error of approximately 2mm.  The same applies to the weight of the ball as well as the size, requiring them to weigh in at approximately 58 grams (the margin of error here is around +/- half a gram).