Until recently, pedal exercisers might have been something you solely associated with seniors, with younger generations opting for more strenuous workouts on full sized bikes.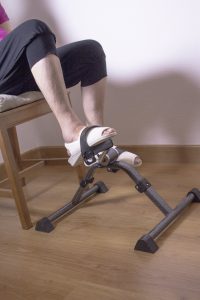 More recently, though, younger people have also discovered how useful they can be during the COVID-19 pandemic.
Gently working out under a desk or at other times during the day offers a workout at home while lock downs across the world have meant going to the gym has been temporarily banned.
Since then, word has got out that it's a relatively easy way to stay fit, allowing anyone to burn calories and build strength in the legs while focusing on other daily tasks at home.
Top 5: Pedal Exerciser Review
Next, we're going to take a look at some of the really good models you can buy for very reasonable prices. You'll find a brief write up on each, and if you're looking to buy, a quick link to grab it on Amazon.
As you can see, many of the pedal exercisers available look broadly similar, so it can be tricky to know which to buy, and whether spending a little more will be worth the extra investment. Of course, there's always an element of 'you get what you pay for', but where should the line be drawn, especially if you're on a budget? Let's take a look at those five exercise machines in more detail.
Hausse Folding Peddler
Hausse Portable Pedal Exerciser with Electronic Display Review
We chose this Hausse peddler mainly as it's lightweight compared to alternative products. If you're in the market for a peddle exerciser, there's a chance that you might struggle to move heavier equipment around which made this an important criteria in our selections. Weighing in at approximately six and a half pounds (that's three kilos), the box should be moveable for most of our readers on arrival.
Once assembled, this product can be used for both arm and leg exercise, including under desk. You'll ideally need a good amount of space under a desk if you choose to attempt to pedal as you work – give some thought to that before you buy if that's your intention, as with your feet flat on the floor you'll need enough clearance for your knees to go up and down as you pedal. Typically that clearance will need to be up to an extra 24 inches depending on how upright a position you'll be utilizing.
The Features Table
Pros
Lightweight (under seven pounds)
Computer functions to monitor exercise
Folds away to save space
Suitable for arms and legs
Non slip feet with pads included
Cons
Gets warm during use
Lightweight design can feel less sturdy to use
The Extra Detail
As a products that's clearly designed to appeal to those looking for a lightweight solution that's easy to move around, it will appeal to those who struggle to maneuver heavier equipment. That's especially important for arm workouts as you'll need to lift it onto a higher surface such as a table. The downside is that compared to some of the following machines, this exerciser might feel a little flimsy and less sturdy than others. It's unlikely to cause many problems unless you're expecting to use the peddler for extended periods, short to medium use to to around twenty minutes at a time should be fine.
The machine does warm up quickly as it's used, getting quite hot with heavy use. As a result, it's wise to leave it to cool down for at least a few minutes after use. That's down the the friction generating heat from the resistance against pedaling, so occurs in the area where the pedal arms meet the main body of the unit.
The computer functions on the Hausse unit are able to track everything you're likely to need, just use the red button to cycle through the provided statistics. You'll get speed measured in revolutions per minute (how many times the pedals go around every sixty seconds), an overall count of how many revolutions have been done, the time you've been exercising for and an estimate of calories burned during the session. Finally, there's a scan function that automatically cycles through the four readings over and over, allowing you to monitor them all with a glance without having to keep pushing the button.
On the back of the unit, you'll find the tension adjustment knob. Tightening this will result in having to work harder, and slackening it off makes your workout easier. If you're the only one to use the pedal exerciser, you'll likely adjust it until you're happy and then leave it, but for homes with multiple users, this is great to let everyone use the same unit and personalize their workout.
Finally, it's worth noting that you can fold the pedaller down to fit into a smaller space for storage, and fold it out again when you want to use it again. Just pull the ring on the pins out half way down each leg, and they'll fold in under the unit to be more space efficient when stored away.
All in all, this is a great option for people looking for a light machine to offer them a gentle workout and help with fitness, without taking up the space and going to the expensive of a full sized static bike. You can see the current Amazon price here:
Vaunn Medical Exerciser
Vaunn Exercise Pedals for Arms and Legs Review
Next up, the Vaunn Medical offering provides a simpler solution to the Hausse alternative above. It much more solid than the Hausse, but lacks the computer tracking and is heavier. If the Hausse was aimed for people looking for a light peddler to move easily, this is aimed for people wanting a very stable and durable solution.
The Features Table
Pros
Very solid and stable
Aimed at medical physiotherapy market
Low impact workouts
Suitable for exercising arms and legs
Simple design
Cons
No computer functions
Not suitable for anything other than gentle exercise
The Extra Detail
If you're looking for something that's designed for more than very gentle exercise, move on. This Vaunn Medical pedal exerciser is for people with physiotherapy needs, who need to strengthen their arms or legs (or both) with gentle movement to strengthen muscle. It's not designed for long term use at increasing resistance, so if you're looking to start getting fit and building up over time, this likely won't appeal.
With this product, you'll be able to work out on very low resistance sessions, getting used to gentle exercise with repetitive motion for your arms and legs. While it's low impact, it's a very effective way to recover from injury in a safe and gentle way, or to get that important dose of movement if you struggle with other activities.
Overall, this is a product with a relatively small target audience, but for those it appeals to, it offers a great solution.
Tabeke
Tabeke Sitting Portable Bike Pedal Exerciser with LCD Display Review
Moving back to a more general use peddler, this Tabeke offering is a rebranded version of the Hausse option above. We've included it as there's often a disparity in pricing between the two, so you may find you can get one cheaper than the other depending when you're reading this and it's time to order. Other than that, there's not a great deal more to say.
Deceli Under Desk Bike
Deceli Mini Exercise Peddler with LCD Display Review
This unit from Deceli is a step in a different direction to the peddlers above. It's a much weightier unit, with the packaged weight coming in at almost double the Hausse and Tabeke alternatives. At nearly thirteen pounds, it's able to offer a much more stable and robust feeling workout, although this is still designed for low impact exercise like other peddlers. If you want something to work harder on, take a look at full sized bikes instead of small pedal exercisers.
Design wise, this one looks better too – while LCD display can look dated anywhere these days, Deceli have managed to integrate it to look much smarter, more on the computer in a moment. For now, you can check the price here:
The Features Table
Pros
Designed for leg exercise
Can be used from sofa, chair or under desk
Computer tracks session progress
Solid & robust design
Non slip feet
Cons
Not suitable for strenuous workouts
1 x AAA battery not included
The Extra Detail
The Deceli under desk bike pedal exerciser has the same issue as other peddlers if you're intending to use it as you work in that you need a lot of clearance under a desk to avoid your knees colliding with the desk itself. Generally, you're going to need the desk to be almost forty eight inches above the floor to use it with completely vertical legs, so to be practical you'll need to slant your legs during use, in a position more similar to a recumbent bike. There's no such issues if you use it from a chair or the sofa though, whatever position is most comfortable will be fine.
Again, this will appeal to those, particularly the elderly, who are looking to gently strengthen their legs a little rather than those trying to burn calories as part of a more broad exercise plan. While this will burn energy, it's not going to appeal to those that are looking for more strenuous workouts. As with the earlier models with computers, this will track the key metrics during your session, including calorie burn time completes, overall revolutions, and speed in revolutions per minuter (RPM). The computer runs on a single AAA battery, which isn't supplied with the product.
As a final note, the design of this unit lends itself less well to arm workouts than the Hausse above, but it is possible to place to on a higher surface to use. Be aware though, that this one is much heavier, so if you struggle to lift items, this may prove to be a challenge if you want an arm workout too.
Hausse Portable Exercise Pedal Bike
Hausse Mini Exercise Peddler with LCD Display Review
For our final choice, we return to the manufacturer Hausse and their Mini Exercise Peddler for arms and legs. As you can see, this is a much more attractive design than their other model above, and is also a little heavier too. It's got the computer functions you'd expect, and also variable resistance too. If you're looking for something a little more robust than their first choice offering, and aren't worried about a little extra weight (it's still quite light), this is a great alternative.
The Features Table
Pros
Well designed
Robust construction
Computer tracking
Suitable for arms and legs
Adjustable resistance
The Extra Detail
Like the Tabeke, this is a much more pleasing design on the eye than the earlier products. Its more expensive than the basic Hausse peddler, but does offer a much more stable activity, thanks to the more solid design. While it's also heavier, this is still much lighter and easier to lift than the Tabeke, so provides a balance between stability and weight.
The computer tracking is good, providing the same metrics as the earlier Hausse model. That means you can tell at a glance how you're progressing in terms of calorie burn, speed (RPM) and how long you've been pedalling for.
Buyers Guide
Now that you've read a little about each of the five featured products, you should understand a little more about what separates them. It's not unusual, though, for learning a little more to set off other questions in your head. In this section we're going to talk more generally about why pedal exercises might be a good fit for you, to further assist before you buy.
Who Should Consider Buying Pedal Exercisers
Huge numbers of us are overweight, and while in the US in particular, far more people look after themselves today than 30 years ago, many people are still trying to motivate themselves to get started. Pedal exercisers offer a relatively easy way to do that, with low effort movement designed to strengthen muscles that have been neglected for too long, or perhaps need strengthening after an accident or injury caused in any way.
Generally speaking, if you're very unfit or under medical supervision for injury recovery or to help lose weight, you should always discuss a change in lifestyle with your doctor prior to getting started. They might want to run a few simple tests to make sure that you're not taking any unnecessary risks. It's likely that they'll be supportive in your mission, as almost any doctor will tell you they approve of regular exercise and consider it a good thing. It's good practice to consult with them before getting started, just to take account of any personal circumstances that you may be affected by.
Pedal Exercisers FAQ
Before finishing, let's address some frequently asked questions relating to peddlers, to nicely round off any unanswered queries you may have.
How Many Calories Will I Burn Using A Peddler?
When you're using a pedal exerciser, you'll be burning calories. As you might expect, as a low impact, gentle exercise, it's likely that you'll burn significantly less than using a full sized bike, whether outdoors or a static bike at home. The number of calories you burn depends on a variety of factors:
Time
It's fairly obvious, but the more time you spend pedaling, the more energy you use – or to put it another way, the more calories you'll burn.
Speed
In a similar way, the faster you're pedaling, the more effort you're putting in and the more you're burning off
Resistance
While not every peddler has a resistance control, most do. If you want faster results, make your workout harder with more resistance, but keep in mind that injuries are more common the harder you work, especially if you're recovering from injury already, or starting from a point of limited fitness. Pedal exercises aren't generally designed for hard workout sessions, so don't go overboard.
Weight
Not the weight of the peddler, the weight of… you! The heavier you are, the more calories you'll burn with the same effort. Research suggests that carrying extra weight can increase calorie burn proportionally, so if you're 25% heavier than someone else, you'll burn 25% more calories with the same workout. In practice than could mean someone weighing 175 pounds will burn almost 10% more calories working out in the same way as someone that's 160 pounds.
Fitness
While it's not as big of a factor, if you're unfit, you body tends to be less efficient in general. That means you're likely to burn off more energy at the start of your quest for fitness that you will later, simply because you're out of shape, all else being equal. Naturally, you're likely to be able to exercise for longer as you get fitter too.
What's A Mini Exercise Bike?
There's no strict definition of a mini bike in fitness terms. Assuming you're not referring to a bike for small children, it's likely that a mini exercise bike is referring to a pedal exerciser. We think of them as one and the same.
Can You Lose Weight With A Foot Peddler?
Of course! Exercise is exercise. You're only likely to choose a pedal exerciser in specific circumstances though. For example, if you're unfit, injured (or in recovery) in some way or being advised to do so by a medical professional, then peddlers are a great choice. If you spend a lot of time at a desk or otherwise seated, they're also a great way to go from inactive to active in the very same spot.
On the other hand, if you're able, a full size static exercise bike is much more efficient to burn sufficient calories to lose weight.