Heading to the beach as part of family vacations is a joyous memory for most of us, and eventually the time comes for most of us to do the same with our own children. Unlike when we were small, as parents we have to think about getting everything down onto the sand – easier said than done. That's where these clever collapsible beach wagons come in!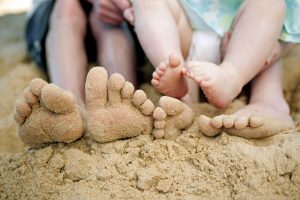 They're really great and practical as they fold up to fit in the trunk, and are really quick to set up, ready to load and pull down to the beach. Thanks to their clever designs, our chosen top picks combine all the best design elements too, so they are not only practical in terms of fitting into the car, but also when they're out on the move doing their thing.
Before we go any further, it's worth noting that this is one of those areas where you get what you pay for – you won't want to regret buying something cheap that turns out to be useless, otherwise you'll be carrying everything plus a wagon back at the end of the day if it breaks or gets stuck in the sand!
Top 5: Collapsible Beach Wagon Reviews
Choosing your ideal beach wagon is easy with our quick reviews below. These are chosen by looking at some of the most popular products according to the reviews from previous customers, after all they're the best judges of how good these wagons really are.
Let's get underway with a quick look at the top choices, before we go into more detail about them below the table.
Mac Sports Outdoor Beach With Side Table
The Mac Sports Collapsible Folding Outdoor Beach Wagon with Side Table Review
Our top pick is this folding wagon from Mac Sports. It's a generously sized choice, able to carry a good amount of kit. Design wise, it's similar to the Utility variation from the same brand, but this tops the table for beach use thanks to Mac Sports swapping out the wheels for bigger and wider alternatives. Those sturdy bigger wheels mean that you're far less likely to sink in sand (although given enough weight if you really load it up it's still possible so don't go overboard).
The fold out table is a nice touch – leave it in the vertical position while in motion and it's safely out of the way, but once in position provides a good place for drinks (in the cup holder 'holes') and other items that are better off sand free.
When you've got a lot to transport from the parking lot down onto the beach, this will make the job a lot easier, and fun too if you've got kids in tow. They'll love loading it up with you, and maybe even helping to pull it along (or at least believe they're doing the hard work!)
The Features Table
Pros
Max load 150lbs
Storage area 31 inches long, 21 inches wide, 9 inches deep
Fold out table
Wide sturdy wheels
Folds for compact storage (10 inch depth)
Cons
Hard to stand upright when collapsed
Sekey Folding Cart
The Sekey Folding Cart Collapsible Outdoor Heavy Duty Beach Wagon with All-Terrain Wheels Review
Next up, we've got this cart from Sekey. It's great to pull along the sand provided it's not too loose – it's easy to get any wagon caught in uncompacted sand.
It's been kept from the top spot by reports of tipping – some users have found that heavily loaded carts have become unstable and some even had issues with loose wheels. It's unclear whether that's an issue with the manufacturing of some models as the majority of reviews are positive.
The Features Table
Pros
Good storage size: 34 inches long, 20 inches wide and 10 inches deep
Good for compacted sand on beach
Heavy duty frame
No assembly required plus fast to unfold
Folds to 7 inch thickness (with 30 inch length, 22 inch width)
Cons
Can be unstable when heavily loaded
Timber Ridge Folding Camping
The Timber Ridge Folding Camping Collapsible Sturdy Steel Frame Beach Wagon Review
Our third spot goes to this highly functional cart from Timber Ridge. Their fast to pop up utility wagon is great for beach trips thanks to a fast to unfold mechanism, meaning that there's no assembly required. Capable of transporting a generous 150 pound load on the road and even 110 pounds on softer surfaces like sand, this is a great contender for your purchase if the two above don't appeal.
The TimberRidge wagon's rear wheels are fixed, so you'll need to pull this one behind you as it's the frond wheels that rotate to steer. The extending handle arm helps this one to fold down into a compact space, meaning you're less likely to need to be choosing between the wagon and other items in the trunk.
The Features Table
Pros
Storage dimensions 35 inches long, 18 inches wide and 12 inches deep
Easy to fold out
Fairly light
Folds down to 30 inches long, 17 inches wide and 9 inches deep
Heavy duty frame
Cons
Hollow plastic wheels can easily be damaged
Mac Sports Utility
The Mac Sports Collapsible Folding Outdoor Utility Wagon Review
We're returning to Mac Sports for our next featured product, as they're a clear leader in the field. The Utility wagon variation on the Outdoor beach trailer above is another one worth considering, although not quite so great on the sand. We're including it for those readers who will use their purchase for the beach as well as on hard surfaces, and while this might dig in a little more, it's a better all rounder if you're likely to be out and about on different surfaces.
The Features Table
Pros
Another well built product from Mac Sports
Storage space of 32 inches long, 17 inches wide and 10 inches deep
Folds to fit into space of 30 inches long by 20 inches wide and 8 inches deep
Often available cheaper than the beach wagon version
Great on hard surfaces too
Cons
Smaller wheels than the top spot Mac Sports wagon mean beach use is harder work
Seina Manual 150 Pound Steel Frame
The Seina Manual 150 Pound Steel Frame Folding Garden Cart Beach Wagon Review
Seina have created this simple and no nonsense wagon that's suitable for beach use and great for loading up quickly and easily. As you would expect, the collapsible nature of the Seina wagon means it's big enough to be helpful during use, while folding down to be easy to store in your vehicle. It's not quite as well thought out as some other models, particularly those that are above, however you can often get a great deal on this one so you you can't expect the world for such a great price.
The Features Table
Pros
Competitive pricing
Available in four colors
Smaller wagon for lesser loads than above models
Collapses by lifting base
Extendable handle
Cons
Can tip due to front wheels being close together
In folded position can come open easily as it secures with carry handles velcro
Buyers Guide
Find out more about beach wagons and why they're great for your family day on the sand.
Beach Wagon FAQ
Are These Easy To Pull Fully Loaded?
It depends on the model – we particularly like the selection above because they include larger wheels to make sure they are easier to move and less likely to get stuck in the sand.
Be aware, all wheeled trailers will sink to a certain degree, so these are designed to make transporting your stuff easier, but there will be times where a bit of effort is still needed.