When you're trying to sleep, excessive heat in the bedroom can be your worst enemy. Lying awake in the middle of the night is something we all experience at times, but when it's purely down to the heat making you uncomfortable, it may be a bed fan that's the answer.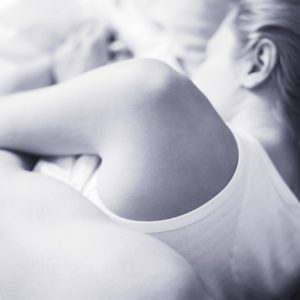 Rolling around in sticky heat is anything but pleasant. All it often takes is a little movement in the air to help reduce the discomfort. That's where bed fans come in.
As with a lot of products, they come in all sorts of shapes and sizes, and some more directly address the problem than others. That's not to say that what is perfect for me is perfect for you – we all have our own preferred ways of doing things, and our own products to achieve that.
Top 5: Bed Fans Review
Here, we're going to look at five different fans that might help you, ranging from some that allow you to get air blown in between the sheets, to others that simply help to move air around the room like other fans you might have around your home.
Our top five bed fans are listed in our quick reference table below, and you'll find more information relating to each further down the page.
As you can see in the table above, there's a lot of variety and a lot to consider.
BedJet V3 Climate Comfort
The BedJet V3 Review
Let's get started with the cream of the crop when it comes to bed fans. Whether you're the sort of person that loves to be hot and toasty in bed, or can't think of anything worse, BedJet is here to solve the problem.
The on demand heating and cooling support with its simple to operate controls, either through the provided remote controls or iOS (iPad or iPhone) or Android apps.
It's available in either a single zone model suitable for any bed or the dual zone version which is great for king size mattress sizes. What's more, if you opt for the dual zone, you'll be able to configure different temperatures on either side of the bed – great if your partner likes to be warmer than you or vice versa.
The Features Table
Pros
On demand heating/cooling
Programmable temperature timer
Easy to use iOS/Android apps
Dual zone includes 2 remotes
Air movement removes moisture
Cons
Expensive compared to standard fans
The Extra Detail
This V3 model was updated in August 2019, meaning that the popular BedJet V2 is now even better. It's smaller than the previous generation, great for convenience and not taking up too much valuable space if you like to keep it out of sight during the day.
The remote control is described as industry leading and the most advanced with its color screen to guide you through operation. What's more, the keys on the remote feature back lighting too – in a dark room while sleeping it's obviously very helpful to be backlit to see what you're doing.
The BedJet also features what they describe as 'biorhythm sleep technology' – a fancy way of saying that it can automatically learn what works for you to help you get a good night's sleep at a comfortable temperature. Of course, it will also respect your choice of programmed heating and cooling patterns if you'd rather manually set up its operation.
Brookstone Floor Fan
The Brookstone Floor Fan Review
The Brookstone Floor Fan works with a gentle flow of cool air. Standing upright on the floor, you can position this as required to provide a cooling action either in the middle or on either side of the bed.
That means it's great for couples who both suffer from being too hot during the night, or if it's just one person, the fan can be positioned accordingly to primarily cool their side.
Features Table
Pros
Easy to fit
Stand included for precision targeting
Suitable for aiming at one or both partners
Good cooling performance
Cons
Pricey with limited functionality
No heating function
The Extra Detail
Standing at a height of twenty six to forty inches, you'll need to make sure this will stand at just above your mattress for best results. While you may be able to make this work with low beds, it may be better to consider something like the BedJet above if yours is too low.
We've seen a few reports of fans failing in this product, which is disappointing from an otherwise quality brand. They are isolated, so it's hard to know how widespread the problems are.
If you're looking to save on the costs of cooling your home through the summer, using the Brookstone fan over the AC for the whole building will offer great savings.
Arctic-Pro Digital Screen Oscillating Tower Fan
The Arctic-Pro Digital Screen Oscillating Tower Fan Review
This marks a change in approach from the dedicated bed fan approach, giving you a chance to consider a standard free standing fan that can also be used anywhere around the home. We've chosen this one as it has a remote control, as you would expect so that you can operate it during the night if you need to adjust its operation.
As the name suggests (oscillating), this fan rotates to continually spread air around the room, taking advantage of the cooling illusion that movement has without actually providing a chilling effect to the air itself.
Features Table
Pros
Remote controlled
Oscillates: moves back and forth to cover room
Good height with pedestal
More affordable that first two fans
Includes a night mode
Cons
Doesn't help couples with differing temperature requirements
Only cools room, not under sheets
The Extra Detail
As this isn't a specific bed fan, you won't get the under sheet effect that the first two fans provide. However, this is a far cheaper solution and is able to be moved around the home as required so will be a lot more versatile.
What's more there's 3 strengths available, high (normal wind mode), low (nature wind mode) and night mode for when you're asleep.
The night mode provided means that it's safe to use throughout the night – good to know when it's not marketed as a dedicated bed fan. There's even a timer shut off too, meaning you can use it while you drift off to sleep, and it'll switch itself off automatically, up to a maximum of 12 hours later.
Standing vertically, the Arctic-Pro Digital Screen Oscillating Tower Fan has a height of 42 inches if you use the pedestal stand, or 32 inches with the base alone.
Leggett & Platt Sleep Chill + Crystal Gel Mattress Protector
The Leggett & Platt Sleep Chill + Crystal Gel Mattress Protector Review
Continuing on the theme of providing a different solution for being too hot at night, this gel mattress protector achieves a cooler night's sleep in a totally different way.
The idea is the gel fibers absorb the heat to pull it away from your body, giving a cooling effect while you're in bed.
Features Table
Pros
No need to plug in
No electricals running while you sleep
Hypoallergenic material
Waterproof
No fan whirring
Cons
Sheets slide with slippery material
Not as effective as fans
Doesn't actually cool or chill
The Extra Detail
The first thing to note is that there's no actual chilling or cooling going on with this product, it works by simply drawing heat away from your body. That means if you get very hot in bed it may have limited benefit.
In addition, the material used is designed more for that heat removal than the practicalities of bedding. That means you may find the sheets slide around more than usual, so if you move a lot in bed they may not stay in place as well as you're used to!
While it's a clever idea, more people are likely to be frustrated with the downsides to this products than the bed fans at the top.
Tornado 6 Inch Clip Fan
The Tornado 6 Inch Clip Fan Review
Finally, here's a traditional desktop fan to remind you that they're better than nothing when it comes to staying cool. Where this one differs is it includes a clam that's great for attaching it to less orthodox places than your average office fan.
While you can put it almost anywhere, thanks to the heavy duty clip, make sure you position it carefully if this is the fan you decide on.
Features Table
Pros
Cheap compared to bed fans
Long power cord
Strong and sturdy positioning clamp
2 speed settings
Cons
Not ideal for fixing to bed
Fan itself not so sturdy
Previous customers question reliability
The Extra Detail
While this is a very versatile fan in terms of where you can use it, we wouldn't recommend fixing it directly to your bed. Instead make sure its far enough away to avoid accidental contact during your sleep.
The clamping mechanism itself is strong and sturdy, however the rest of the fan is less so. Some previous customers have mentioned in their reviews that this fan has been dead on delivery or failed with little use, while others are very pleased with it. For that reason if you choose to go with it, we'd recommend setting it up and testing it quickly after you get it, and give it a good run to try to identify issues early.
It's got a very useful long power cord to allow you a lot more flexibility in placement, and it would be wise to use a timer adapter to cut the power a set time after going to bed to prevent it running all night.
Overall not the best solution, but a good one if money is tight.
Buyers Guide
We know that just because you want to solve a problem like being too hot or too cold in bed, it doesn't necessarily mean you know what you need to buy. In fact, it's more than likely that you've got some questions that need addressing and that's why you're here on our site!
For that reason we're pleased to offer you a frequently asked questions section that aims to clarify some of those details for you, based on previous questions that have cropped up from buyers.
Bed Fans FAQ
Why Buy A Bed Fan Rather Than A Cheap Room Fan?
Bed fans are designed for use while you sleep. They're also intended to cool or heat the bed itself, not just the room around you. That's why we've got the BedJet above first in our table – it's a dedicated solution for a very specific problem.
While you can cool or heat a bedroom as you would any other room in the house, what it won't do is provide the air movement against your skin to counter that feeling of sweating in bed under the sheets.
On a different note, blowing air around the room may be a less healthy option as you're also filling the air with tiny dust particles that would otherwise settle on flooring and surfaces when the air is still. The same applies to pollen and other allergens, so if you suffer with hay fever or similar, you may actually suffer more than with no fan at all. With a bed fan, the air movement is under the sheets, so there's less movement of air around the room, and in turn less chance for dust to circulate.
Can You Use The Side Instead Of The Foot Of The Bed?
While the instructions for bed fans tend to advise using the hose from the bottom of your bed, previous customers have been known to use it at the side instead, for example when they have a sizeable footboard preventing access.
If you're in that position, you may find it's more effective for whichever side of the bed it's positioned on, so if you or your partner would benefit more, that's the side to use.
Are Bed Fans Safe?
You might have heard that electric blankets have caused fires in the past, and that's why they're not advised to be used during sleep, just to warm the bed before you climb in. So, why are bed fans different?
Of course, with any electrical product there's a risk of malfunction, even though it's very small. The key is that you're using a device that's designed to be used during sleep. That means the manufacturer will have considered that while creating the product. The chance of problems is therefore small – just like a phone charger could overheat, it doesn't stop us using them!
Away from fire risk, the other main concern is dust circulation as we mentioned in the first question. Bed fans are better than room fans in this regard, but if you notice any breathing related symptoms, adjust their use accordingly.