When you're away from home, it can be a nightmare to get the kids to bed. They might feel anxious that they're not in familiar surroundings, or just excited to be staying with friends or relatives. All parents have been there, just as you let your guard down because you think they're asleep, that familiar sound of footsteps!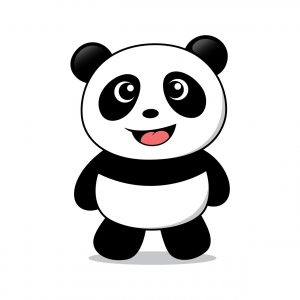 A great way to help overcome that anxiety or nervous excitement is to get the kids a familiar item that they can feel at home with, even when they're away! These awesome panda sleeping bags are the perfect solution, based on the wild animals, but much, much cuter!
It doesn't really matter whether your kids are small or growing up fast. In fact, there's quite a few adults that would find a sleeping bag like this adorable – so let's dive in and take a closer look!
Top 5: Panda Sleeping Bag Reviews
On this page you'll find five of our favorite panda bags that we hope will grab your imagination. If you're wanting even more to choose from, click through to Amazon and you'll find loads more, as well as variations featuring different animals and designs.
iScream Furry Adult
The iScream Furry Panda 73″ x 25″ Faux Sherpa-Lined Plush Fleece Zippered Sleeping Bag Review
This polyester sleeping bag is our favorite, due to it's really cute and appealing design. Unlike some products that have a slightly novelty design, this is a really soft sleeping bag. The 'sherpa' lining is synthetic as a polyester based material but does a good job at feeling more natural than some other sleeping bags of a similar nature.
Measuring in at 73 inches (185cm) long (including the hood), this will appeal to little and big kids alike, and by big kids we're fully aware that's more than likely going to include a few adults. Where this is really neat is it rolls up into the panda's head for easily storing away or transporting when you're away from home for a night or more.
As you would expect (but isn't always the case with cheaper alternatives), this panda sleeping bag is fine to wash in the machine, and retains its shape and color well. All in all a great buy for sleepy panda fans everywhere!
Features Table
Pros
Cute design
Well made
Machine washable
Soft feel
Good 73 inch height
Cons
More expensive than plain sleeping bags
Snoozzoo Adult
Snoozzoo Adult Panda Sleeping Bag For Person Up To 75 Inches Tall Review
The panda design sleeping bag suits people up to 75 inches tall. It's got a neat feature that allows it to roll up into itself for carrying and storage purposes, great for carrying around like a backpack.
For washing, it can be placed in the machine for a cold wash too, making caring for this cute and fun sleeping bag a breeze. It even tumble dries quickly to near dry in approximately fifteen minutes, to complete the drying process in the open air before being packed away.
Features Table
Pros
Suitable for people up to 75 inches
Machine washable
Rolls into bag
Fun panda design
Cons
Some reports of zipper breaking
Tianhaik Newborn
Tianhaik Newborn Baby Wearable Cute Panda Swaddle Blanket Fleece Sleeping Bag Review
Changing direction slightly from the adult bags, this amazing baby sleeping bag is designed for newborns. The adorable design is light and soft, and made from fleece and cotton that's breathable and has a woolly feel to it.
In terms of washing, this item is hand wash only, and make sure the water stays below forty degrees centigrade.
Features Table
Pros
Soft material
Breathable
Lightweight
Great for bed or stroller use
Good for up to 12 months old
Three Cheers for Girls 3-in-1 Fabulous Fur
Three Cheers For Girls 3C4G 3-in-1 Fabulous Fur Sleeping Bags Review
This bright sleeping bag is aimed at girls, however as it's likely to catch the eyes of younger children there's probably plenty of boys that would love it too!
It's also described as three in one, so it's worth explaining that too:
The obvious first use is as a sleeping bag
The head unzips, allowing you to use the bag unzipped as a blanket and the animal head as a pillow (holds a full size one).
Finally the head minus the pillow can be used as a carry bag to transport the item with ease, and of course helps as a space saving solution for storing away when not in use.
This product is made from polyester, which while soft isn't quite as high quality as the above alternatives.
Features Table
Pros
Really bright, vivid colors
Sleeping bag with pillow
Unzips to blanket and pillow
Stores into pillow as carry bag
Bag section is machine washable
Cons
More synthetic feel than above sleeping bags
Head part not machine washable
Fairy Baby Fleece
Fairy Baby Fleece Sleeping Bag Animals Wearable Blanket Review
Let's return to baby bags for the final item in this top fives. The Fairy Baby Fleece sleeping bag is a no fuss solution that's a lot more simple and suitable for long term use than the Tianhaik above. It's not going to grab the attention of all around in quite the same way, but it's a much more sensible solution if you're worried about your child overheating.
As your baby will be unable to wriggle into the bag, it's considered safer than some more traditional bedding types too. It's designed to be easy to place your child into and fasten around them, even while sleeping with side zipper and pop close fastenings on the over the shoulder straps.
Features Table
Pros
Safe baby sleeping bag
Available in up to 12 months and 1-3 year sizes
Machine washable
Easy to use, even with sleeping child
Soft cotton and polyester material
Buyers Guide
Let's consider a few final points that might help you decide it the panda sleeping bags are a great fit for you!
Panda Sleeping Bag FAQ
What Is The Best Sleeping Bag?
Our top picks for panda sleeping bags are in the table above, and should give you a wide variety of potential choices depending on the age and what appeals to the person you're buying for.
What Is The Warmest Bag?
Sleeping bags are assigned tog ratings like other bedding to assess their warmth, however you should be careful not to overdo this as it's easy to overheat, particularly if you're buying for babies. Unlike traditional bedding types, sleeping bags trap the warmth inside, so you will likely find even a one tog sleeping bag sufficient for home use, with higher ratings for camping and other outdoor activities.
Can You Wash Them In The Machine?
A lot of sleeping bags are fine to wash in the machine, but often in cold water to prevent damage or misshaping. Generally speaking, you'll fin the informtion you need on the relevant Amazon page – just click the blue link above.
Is It Worth Spending So Much On A Sleeping Bag?
You know best what you or your child need. If you're buying for a child, it's often easier to get them settled and comfortable if they love their bed and surroundings, so a great panda bag could be just what you need to get them off to sleep when you're away from home. Kids are often wary when they're not in familiar surroundings, so buying something like this can be a great way to distract them, and it's a great idea to let them use it for a few nights at home before you travel to let them get used to it!