An electric guitar is a prized possession for a musician, and one that's almost always looked after with great care. While not everyone who buys a guitar becomes a globetrotting rock star, most people that learn to play treasure their instrument. There's two main reasons why you might want to replace your knobs on your guitar, the first being through damage through accidents or wear and tear, and the other is to personalize the body.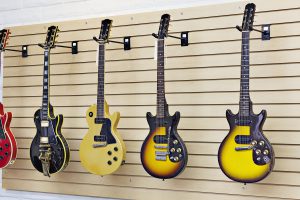 In this top five, we're going to look at some of the most popular guitar knobs, which generally means we're looking at replacements for worn or damaged ones that are being removed and replaced like for like. It's likely that your guitar will have a specific set in mind, so if you don't find exactly what you're looking for below, click through to Amazon and see if they've got what you need.
Due to the sheer number of brands of guitar, we can't cover every manufacturer on one page, so we plan to add specific top five pages for the main manufacturers like Fender, Gibson, Epiphone, Yamaha and Ibanez in the future.
Top 5: Electric Guitar Knobs Review
Replacing guitar knobs isn't something you need to do often, but it is important to do so before they wear down too much or even keep falling off completely. They're designed to properly operate the guitar controls (normally volume of output, along with bass and treble depending on the make and model) and also provide protection to the components they cover. Here's a look at the most popular.
That's the quick run down of the most popular electric guitar knobs, so next we'll go into a little more detail about what you can expect from each.
Fender Strat Knobs
These original knobs from Fender will give you the opportunity to return your Strat back towards its original condition. If you're struggling to read the numbers on a much loved and heavily used guitar, these are perfect to restore the controls to their former glory.
Simply lie the guitar flat and gently lift off the old ones, clean up the pins if required (use a damp cloth or alcohol wipe) and replace them with these great Strat knobs. You get two tone controls and one volume control, which all fit over the same sockets as your existing knobs.
With such an iconic brand and design, replacing like for like is a great way to help your guitar look newer again, either on their own or as part of a more extensive refurbishment.
Features Table
Pros
Original replacements
Two tone and one volume knob
Black color
Easy to change
Look great to clean up a tired Fender
Cons
Some quality issues require replacing
Fender Knobs Vintaged
Like the Strat Knobs above, these vintaged alternatives are also perfect choices to replace worn or damaged originals. Being a much lighter color means these are slightly more susceptible to needing to be replaced, as dirt and scrapes can show up a little more easily.
There genuine parts are branded to Fender, meaning that you'll get the same quality and reliability you'd expect from any other major brand.
Again, you're buying two tone and one volume control, allowing you to replace all three knobs together in just a minute or two.
Features Table
Pros
Genuine replacements
Two tone and one volume knob
Off white yellow vintaged color
Easy to change
Look great to clean up a tired Fender
Cons
Occasional reports of ridging problems inside in gripping pin
OULII Speed Control Knob
Designed for Epiphone and Gibson Les Paul's, these neat and attractive Oulii speed control knobs will appeal to a wide rang of guitarists looking to replace their controls.
Les Paul design guitars are undoubtedly one of the most popular in the world, so when replacing visible parts you want something that looks great like these black and gold knobs.
This four piece selection is as easy to swap over as you would expect, meaning that once you've got them in you hand you can be away in just a couple of minutes.
With a premium design you could be forgiven for being surprised that these are completely made from an acrylic plastic, giving a durable finish for your guitar for years to come, that not only withstands the wear and tear of playing regularly but also look the part too.
The numbers on the dials are a good size, and easy to read, giving a subtle yet easy to use gauge to read at a glance.
Features Table
Pros
Durable acrylic plastic construction
Look great on a Les Paul
4 knobs included
Black and gold design
2.6cm diameter
Cons
May need new pots if still loose after replacement
Metallor Electric Guitar Top Hat Knobs
NExt up are these really smart looking top hat style replacement knobs. Again, we're looking at controls for a Les Paul, and with a huge number of Epiphones out there being played, it's no wonder these sell well.
They're a really simple design, but while the design is basic it's also managing to be stylish while understated.
These will likely appeal to anyone looking for a cheap way to solve damaged, sticking or worn controls, without buying replacements that look too cheap.
As with the Oulii knobs before these, you'll get four in a pack, two tone and two volume controls to allow all to be replaced in one go. Obviously, you'll want to replace them together to maintain a consistent style on your instrument.
Unlike the earlier selection on this page, the Metallor top hat knobs are available in several variations, comprising packs in black, gold, white and with a pentogram design.
Features Table
Pros
Made from durable plastic
Simple to swap over to fit
1.2cm depth, 2.6 cm base diameter
Epiphone Les Paul guitar knobs
Available in black, gold, white and pentogram design
Cons
Some fit slightly loosely
Metal Volume Tone Dome Tone Guitar Speed Control Knobs
Our final pick is a bit of a variation to give you a different choice to consider. These Metal style knobs give a totally different  look to your guitar, so if that's the effect you're seeking, give these some thought.
The pack includes an allen key tool for fitting purposes, allowing you a little more flexibility and meaning they can be fitted to Fender Strats and Les Pauls alike. It is a little more complex that the options above, but worth persevering with if you're after that slightly different look.
The fact that they're available in black, chrome and gold means you can get exactly what you want too, offering knobs in different colors, yet all with a 1.8cm diameter and 1.8am height too out from the guitar body.
The metal construction is strong, durable and easy to use, and should last you long into the future once fitted.
Features Table
Pros
Iron metal construction
Allows a new look for your guitar
Allen key included
Available in gold, chrome and silver
4 knobs included
Cons
Takes longer to fit then straight swap knobs
Buyers Guide
Before we finish, here's a bit of information to help you make that decision about what to buy.
Electric Guitar Knob FAQ
What Are The Knobs On The Guitar Called?
Generally speaking, you may have guitar control knobs for volume and tone.
What Do The Knobs On An Electric Guitar Do?
The volume control simply adjusts how loud the sound is that comes from your amp, which will almost certainly also have a master volume control too. Similarly, the tone controls will affect the sound similarly to the ones on the amplifier. You'll generally find that a good guitar amp will provide a lot more control than the guitar itself, but very few musicians make the most of their guitar's in built tone controls.
What Do The Four Knobs On A Les Paul Do?
A Les Paul is slightly different to other guitars, including popular choices like Fenders. There are four knobs to control the sound, two per pickup, a volume and tone control for each.
Are Replacement Guitar Knobs Universal?
No, generally speaking the knob needs to match the pot it covers, so there may be differences depending on the combination of guitar and knob. Some kits bridge this gap, and some guitars can easy change their pots to accommodate a different design. If you're not familiar with the workings of electric guitars, it's probably best to go for a like for like swap.
There's also various types of electric guitar, as well as classics, there are also electro-acoustics and even electrics versions of resonators too (among others), so it's a good idea to do your research first if you're looking to mix and match, as if you're not sure, stick with a similar design to what you've already got.
How To Swap A Knob?
Sometimes a video answers a question best – here you can see how to swap a set of knobs over.