One of the most distinctive types of acoustic guitar is the resonator, which many guitarists fondly refer to as a dobro. While a lot of readers may never have heard of a resonator guitar, those old enough to remember may recall the cover of the Dire Straits album 'Brothers In Arms' which featured one.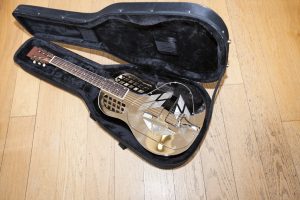 The resonator was created to solve the problem that many acoustics are too quiet to be heard when being played alongside other instruments, though over time acoustic-electric guitars (sometimes referred to as electro-acoustic) have also gained popularity to solve the issue too. The resonator has managed to hold its own though, in a large part thanks to its distinctive sound.
The guitar gets its name from the method used to achieve its sound and louder volume, with resonance. Typically found in the possession of blues musicians, and those who have their inspiration from 1940s Eastern America, termed Bluegrass. While bluegrass music is associated with the area south of New York stretching to Alabama, it's now spread around the globe.
Top 5: Resonator Guitar Review
If you're in the market for a resonator, but you're not really sure where to start, we're here to help. Just below, you'll find our top five recommendations, five guitars that are both popular and good value. We'll also provide some extra information about buying a resonator guitar to help you make your choice that little bit easier.
As guitars are a considerable investment, you're likely to want a bit more to go on than the images above. Next we'll go into that detail one by one, to help give you a better feel for what's available.
Gold Tone Paul Beard Signature Series GRS
Gold Tone Paul Beard Signature Series GRS Resonator Guitar (Mahogany) Review
The GRS is a popular choice thanks to its steel body and familiar 12 fret neck. As it's a round neck, it's perfect for standard acoustic guitar playing position, rather than the lap style that some might associate with slide guitar. It's a biscuit bridge, yet offers impressive sustain, something often lacking from these bridges.
The Features Table
Pros
Steel construction
Round neck
Biscuit bridge
Good sustain
Available left or right handed
Gold Tone Paul Beard Signature Series PBS Squareneck
Gold Tone Paul Beard Signature Series PBS Squareneck Resonator Guitar (Vintage Mahogany) Review
Next up, the square neck version. This is a great guitar, pushed back to second due to offering less versatility to playing style. As with all square necks, it won't be of interest to traditional guitarists, but for the purpose it was created for, it's a great choice. This is a guitar all slide guitarists should seriously consider.
The Features Table
Pros
Mahogony construction
Square neck
Spider bridge
Sunburst design
Available left or right handed
Cons
Another pricey choice of resonator
Regal RC-57 Metal Body Tricone
Regal RC-57 Metal Body Tricone Resophonic Guitar – Nickel-Plated Brass Review
This tricone offers great value, and a sound to almost match the GRS and PBS. Naturally, the tricone means the design aims to get as close to the punch of the biscuit bridged guitars with the sustain of the spiders, and does so with considerable success vie three six inch aluminum cones.
The nickel plating to finish the surface makes this guitar look really eye catching, with a very authentic bluesy feel.
The Features Table
Pros
Bell brass back and side
Round neck
Tricone with aluminum bridge
Looks amazing
Rich sound
Cons
Several week lead time
Sizeable investment
Recording King RPH-R1-TS Dirty 30's
Recording King RPH-R1-TS Dirty 30's Resonator Guitar Review
This Recording King guitar will appeal to blues guitarists and slide players alike. It's a much cheaper model than the guitars above, making it a popular choice for beginners to the resonator world. While some of the cheaper resonators are likely to leave their owners feeling frustrated with an element of buyers remorse, this is a great place to get your feet wet. With a smaller investment giving you a really impressive starting point, you're much more likely to spend the time developing your technique and perhaps move on to a more expensive instrument later.
The Features Table
Pros
White wood back and side
Round neck
Biscuit bridge
Sunburst effect
Much cheaper than other resonators
Cons
Limited sustain but great, soft tone
Gretsch Roots Collection G9201 Honey Dipper Round-Neck
Gretsch Roots Collection G9201 Honey Dipper Round-Neck Resonator Acoustic Guitar, 19 (12 to Body) Frets, Rosewood Fretboard, Medium V Neck, Natural Review
This Honey Dipper from Gretsch' Roots collection looks the part for slide and blues, but falls somewhat short compared to the above alternatives. While the price is usually lower than the first three, it's higher than the previous Recording King, which would almost certainly appeal more to people wishing to limit their spend. It's not a bad guitar, there's just other biscuit bridge models that offer more for your dollar.
The Features Table
Pros
Brass body
Round neck
Biscuit bridge
Weathered effect
Mahogany neck with rosewood fretboard
Cons
Better quality available
Hard to set up
Cheaper models with better quality available
Buyers Guide
Let's finish up with some final information that might answer any lingering questions you have about buying a resonator.
Square Neck Vs Round Neck Resonators
There are two types of guitar neck profile when you buy a resonator – round and square neck. Round resembles the traditional style of guitar that you'll see most guitarists playing, and is great for playing like a normal electric or acoustic guitar too – they can be tuned just the same way!
The square neck on the other hand is not something you want to try to play 'normally', the strings are too high off the fret-board, as the markings are intended as a guide to use for slide guitarists, not to be pressed down as with the round neck. They're for playing flat on your lap, known as dobro, lap slide or bluegrass style in some circles.
To put it very simply, if after that explanation you're still not sure, buy the round neck as you can still play slide on it, but not the other way around on a square neck!
The Three Resonator Cone Systems
If you're new to resonator guitar and checking out some reviews before you buy, the most important thing to recognize is the three main bridge types. These are:
Biscuit (single cone)
The cone sits inside the guitar body, with the strings running over the bridge which is mounted on the biscuit (how the system gets its name!). Biscuits are generally speaking loud and clear, but the downside is the notes fade quickly (poor sustain).
Spider (single cone)
Spiders are similar to biscuits, however have much better sustain thanks to the cone being inverted like a speaker cone. The reason it's called a spider is that the brace over the cone resembles a spiderweb. The downside this time is the inverted cone gives a less strong 'hit', meaning a lower volume even though the sustain is improved.
Tri-cone (three cones)
The tri-cone is the daddy, mixing the best of both the biscuit and the spider. A metal T brace supports the strings to form the guitar bridge, with each of the three feet of the 'T' against a cone. The string vibrations are delivered to the three cones, giving the punch of the biscuit with the sustained notes of the spider.
Resonator Guitars FAQ
Can I Play A Resonator Like A Normal Guitar?
Of course! Guitar tuning is key here, so tune to standard tuning and you'll be able to play chords the same way. The sound of a resonator guitar is the appeal to most guitarists, so you should be excited to try them next time you're in a guitar shop to see how you get on!